RACH VEM BEACH PHU QUOC
Rach Vem Beach (Bai Rach Vem) is a rural beach located on the northern coast of Phu Quoc and it is part of Ganh Dau commune.  The beach consists of white sand and turquoise water however this is not your typical beach as it is a "working" beach where fishermen and their families reside so do not expect to find a clean beaches or an ocean here.  Rach Vem is however beautiful in its own way.  The shore line is dotted with fishing nets and traps and has become a parking lot for the numerous fishing boats in the area. Rach Vem Beach and illage is a great place to absorb local life and it is well worth a visit, mainly for the cultural experience.
RACH VEM VILLAGE
Rach Vem Village is a small fishing village (800 meters wide and 4 km long) and this is the place to experience traditional village life as not much has changed in the past 10 years.  There are about 160 household with approximately 1,000 people living here. The village is accessible by traveling down a relatively wide red dirt side road.  The village is located between the Nhum and Coc canals and faces the sea where Cambodia can be seen in the distance.  You can expect to see very basic houses built on stilts, chickens and ducks being farmed, stray dogs and cats running around, and children following you around.  The locals do not speak English but are very friendly and helpful.  The life here is simple and there is a certain charm that exists in the village.  Unfortunately this village is destined to be redeveloped into a resort area so see it in its natural state while you can.
Rach Vem Village By The Beach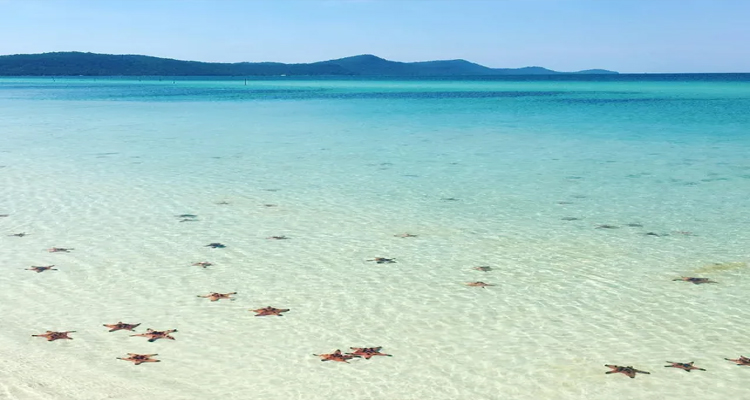 WHAT TO SEE
Khmer life: You can see how local Khmer communities live on the island. All the residents at Rach Vem Village are quite friendly and are more than willing to talk with you or pose for pictures.
Note: When talking to the locals, please do not mention about the Cambodia-Vietnam war or about Pol Pot's regime as this is a sensitive issue up here.
WHAT TO DO
Fishing: Besides taking pictures you can also ask a local fisherman to take you out fishing for a small fee.
WHERE TO EAT & DRINK
You can purchase snacks and local dishes off the main road leading into Rach Vem Village:
RACH VEM ACCOMMODATIONS
If you do decide to stay in Rach Vem Beach, we recommend the following:
NEED TO KNOW
Rach Vem Eco Tourism Project
Rach Vem and Rach Tram are slated to be redeveloped for tourism.  The project is known as the "Rach Tram project" and will be an eco-tourism project that will incorporate the Phu Quoc National Forest and the north coastline. Tourist spots shall be located between Nhum and Coc canals, a community tourist center shall be located at the center of the beach, and the population quarter of the fishing village shall be located along Vem canal to the southwest of the beach.
Explore Rach Vem Beach in Phu Quoc
In this article, we will explore Rach Vem, Phu Quoc's most beautiful and underdeveloped beach. It is home to diverse sea creatures, and its unspoiled beauty makes it a picture of harmony between nature and human civilization. If you're in the mood for some fishing, Rach Vem is the perfect location. You can enjoy its peaceful environment by renting a kayak and fishing from the pier.
Rach Vem is Phu Quoc's most remote and underdeveloped beach
In addition to Rach Tram, Rach Vem Beach is the island's most rural and underdeveloped beach. This fishing village is beautiful, with its scenic coastline, friendly people, and secluded stretches of sand. The area is also home to a small guesthouse called Phong Lan. It's best to bring water and food when you visit, as the beach is undeveloped.
The road to Rach Tram is a beautiful, scenic drive, and is nearly completely paved. The road is being built to help facilitate the development of the tourism project, but you can still enjoy the scenic views from the beach. Access to the beach is easy, but the last couple of kilometres can still be muddy. But don't let the lack of infrastructure discourage you.
It is a refuge for various types of sea creatures
Located about 12 miles north of Duong Dong, Rach Vem Beach offers a scenic setting with its golden sand and crystal-clear blue waters. Its remote location and lack of development mean that it rarely sees many visitors. As a result, the beach is clean and undeveloped, and the only amenities available are limited. It's best to pack plenty of sunscreen and other protective gear.
As Phu Quoc's most famous beach, Rach Vem Beach is home to numerous species of colorful starfish. This beach is also a haven for scientists from around the world who come to study the ebb and flow of the sea. To get to the beach, drive through the picturesque countryside lanes and you'll be rewarded with a view of cashew nut plantations.
It is a picture of harmony between nature and people
If you are looking for a place where people and nature are in perfect harmony, Rach Vem is the perfect destination. The peaceful setting, poetic landscape, and breathtaking colors make this coastal area a picture of nature's balance with humankind. Boats moored on the shore and raft houses floating offshore are just a few of the attractions that make Rach Vem the perfect place for relaxation.
The golden sand of the Rach Vem beach is backed by a dense coconut forest. During sunset or sunrise, you can watch the fishermen and their nets. Rach Vem is a peaceful place to watch the sun go down, and you'll want to pack plenty of sunscreen to avoid burns. A walk along the beach will give you a fresh perspective on nature, and you'll be glad you did!
It is a place for fishing
Located in southern Vietnam, Rach Vem Beach is a picturesque fishing village with a clean beach. The smooth white sand is a perfect place to cool off in the hot summer months. You can enjoy a relaxing day at the beach while listening to the murmurating sea waves and the soothing sound of the sea breeze. The local fishermen will show you how they catch fish in the morning and let you try it yourself.
The pristine Rach Vem beach is a perfect location for fishing and snorkelling. Located just 20km from Duong Dong, this small fishing village has a quaint atmosphere. It's a great place for families to enjoy fresh seafood and the harmony of nature. If you're looking for a romantic beach for two, Rach Vem is a great place to visit.
It is a place for swimming
The remote Rach Vem Beach, also known as Starfish Beach, is popular among day-trippers from all over Vietnam. The beach is home to hundreds of starfish. You can also try your luck fishing, and you'll be rewarded with a bounty of fresh seafood. However, be aware that this beach is not quite developed yet. A resort development is planned for the area, and most tourists visit only in the daytime during peak season.
Located just 25 kilometers from Duong Dong town, Rach Vem Beach is a peaceful, picturesque beach. You can swim there, or fish for starfish. The beach is surrounded by a fishing village and sea-food restaurants. Because of the lack of seabed-cleaning creatures, the water is often murky and dirty. Rach Vem Beach is also less touristy than Dragon Beach. However, you'll still have a chance to see starfish, although fewer than Dragon Beach.
It is a place for nature lovers
If you want to relax in the lap of nature, Rach Vem Beach is the right place for you. This peaceful, undeveloped beach is a favorite among fishermen and nature lovers. Besides the crystal-clear waters and starfish, Rach Vem beach offers stunning views of the lush forest and pristine sea. Rach Vem is located in the north of Phuket, so it is not very developed. Nevertheless, there is a guesthouse, but no shopping or dining options.
The shores of Rach Vem Beach are located on the Cambodian side of the Gulf of Thailand. They are dotted with palm trees, so it is not difficult to find a spot for a picnic or a peaceful sunset. Rach Vem also offers a unique dining experience by eating at floating restaurants on stilts or on canoes. The temperature of Rach Vem is tropical, ranging from 27deg C in May to October.